The Abel Tasman and
the Heaphy Tracks (New Zealand)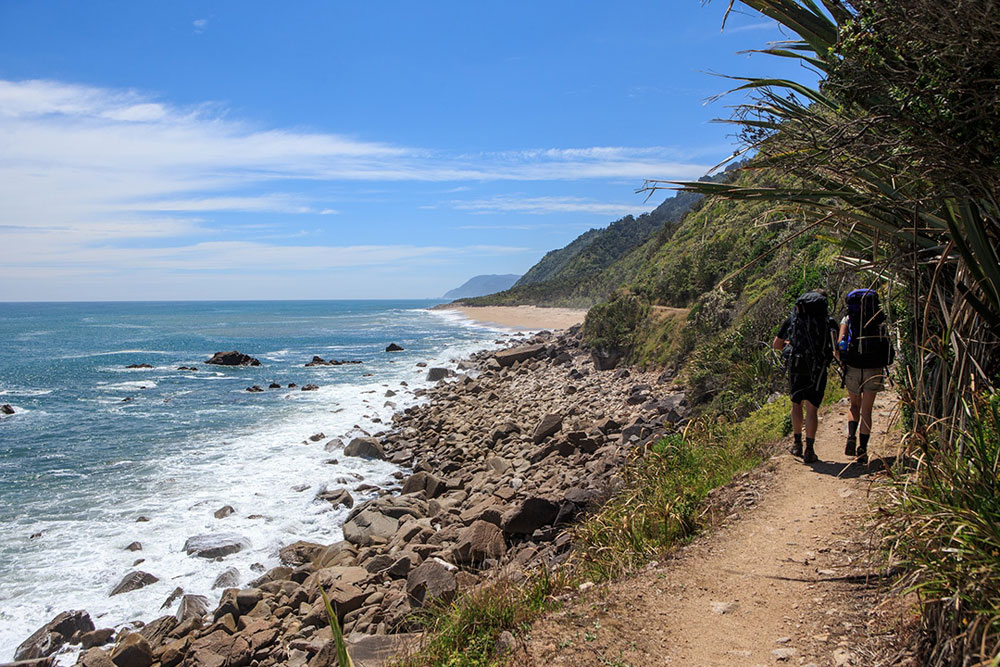 "New Zealand has thousands of kilometers of hiking trails but sitting above them all are 9 Great Walks that journey through the country's most magnificent places and iconic locations."
Live Out Loud Adventures is heading back to New Zealand, one of the best "tramping" destinations on earth. We've put together a brilliant itinerary that covers the best of the very north of the South Island. We'll hike 2 of New Zealand's 9 Great Walks, the Abel Tasman Coast Track and the Heaphy Track.
The Lonely Planet describes the Abel Tasman Track as "arguably New Zealand's most beautiful Great Walk – 60kms of sparkling seas, golden sand, quintessential coastal forest and hidden surprises." The Heaphy Track is without a doubt the most diverse of the walks. It combines lush beech forests, expansive tussock plains, sub alpine traverses, and a breathtaking coastal section with wonderful views out to the wild West Coast. This 78.4km path was first used by the Maori pounamu hunters travelling from Golden Bay to the pounamu (jade) rivers of Westland.
Our trip will start in Nelson, a destination for free spirits and art-lovers. We'll hike staying in huts and lodges along the way. And we'll end with one of the world's great train journeys traversing the majestic Canterbury Plains, up and over the Arthur's Pass resting finally in an alpine lodge, a place of pure tranquility and natural grandeur. Voila!
Dates
Wednesday January 25 – Tuesday February 7, 2023.
Itinerary
Wednesday January 25 – Arrive in Nelson for a kickoff celebration.
Thursday January 26 – A day to enjoy Nelson and the charming seaside villages of Mapua & Ruby coast.
For those interested, a visit to one of the many vineyards can be arranged. Nelson is home to "22 cellar doors, almost all family-owned". The diversity and excellence of their wine makes a trip along their wine trail a truly special New Zealand experience.
Friday January 27 – Day 1 of the Abel Tasman Track – 14kms.
Saturday January 28 – Day 2 of the Abel Tasman Track – 21kms.
Sunday January 29 – Day 3 of the Abel Tasman Track – 9kms.
Monday January 30 – Day 4 and exit – 16kms.
We'll end our hike and will be transported to our lodge in the beachy village of Pohara, home to a beach that at low tide "is as big as Heathrow's runway".
Tuesday January 31 – Golden Bay.
From our base in Pohara, we'll set out to explore the natural wonders of the area. "Drive over Takaka Hill and discover a vibrant, artistic community that is also a paradise for nature lovers."

Wednesday February 1 – Day 1 of the Heaphy Track – 18km.
Thursday February 2 – Day 2 of the Heaphy Track – 24.2km.
Friday February 3 – Day 3 of the Heaphy Track – 20km.
Saturday February 4 – Day 4 and exit – 16.2km.
We'll end our hike and be transported to Greymouth for a Kiwi fest / celebration.
Sunday February 5 / Monday February 6
All aboard! Today we journey in style on one of the world's greatest trains, the TranzAlpine. Up and over Arthur's Pass we'll go on a ride unlike any other. We'll spend the evening, and the following day, nestled in an alpine lodge set on a 4000 acre working sheep farm in the heart of the Southern Alps. With a focus on immersive, nature-based experiences, this lodge is a perfect ending to a trip full of natural grandeur.
Tuesday February 7
Transport to Christchurch International Airport for departure to Canada.
Reserve Your Spot or Enquire