The Hebridean Way (Outer Hebrides)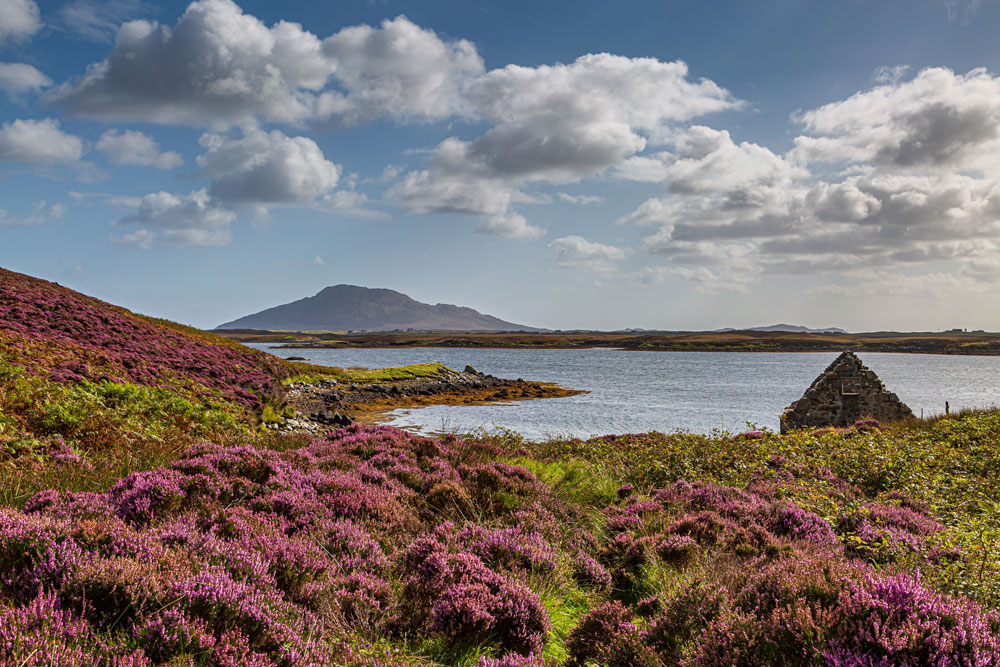 Hiking the Hebridean Way - A place like no other
On the western edge of Europe, in the wild waters of the Atlantic Ocean, lie the dramatic, beautiful and unspoiled Outer Hebrides. A world away from the mainland of Britain, these Western Isles offer a landscape of savage seas, lonely villages, and breathtaking beaches.
"These islands are not just 'western'; they are definitely 'outer',
as in Outer Mongolia and outer space.
They are a step beyond the ordinary … a place where one comes to experience 'Life on the Edge'."
Live Out Loud Adventures is ready to take you to this extraordinary remote corner of the British Isles. Over the course of approximately 130kms and 9 days, we will hike the Hebridean Way, visiting 8 islands and crossing 5 causeways while experiencing the length of this spectacular archipelago. Stunning beaches, abundant wildlife, turquoise seascapes, imposing mountains, outstanding archaeology, and a unique Gaelic culture … a rich combination of attractions unlike anywhere else.
Starting in Lochboisdale on the Isle of South Uist, we will make our way north to Stornoway, staying at hunting lodges, bunkhouses, cottages, and Inns enjoying the hospitality of the locals and the spectacular vistas. Our bags will be transported from Inn to Inn allowing us to fully appreciate the varied terrain and awe- inspiring vistas. The actual distance hiked each day is not exact as we will arrange for taxi rides at the end of most days to avoid walking the last few kms on paved roads.
This is at times a challenging route with the terrain as rugged as anywhere else in Scotland and the weather as changeable as the seasons.
"The reward for the intrepid will be a lifetime of memories
from one of Scotland's greatest long-distance paths."
Itinerary
Thursday May 18 – Wednesday May 31, 2023
Thursday May 18
Meet in Glasgow at our hotel at 4pm for a review of everyone's kit and for a kickoff celebration.
Friday May 19
Air Travel to the Isle of Barra. Spend the afternoon in Barra before being transported to South Uist and our hotel.
Saturday May 20 – Day 1 – Lochboisdale to Howmore, Isle of South Uist
Distance = 22.5km
We start the Hebridean Way from Lochboisdale, the main village and port on the Island of South Uist. This is a wonderful day of walking as we follow the shoreline of the west coast of South Uist. The walk is spectacular with mile after mile of flower filled machair fields (low lying grassy plains) bordering the vast deserted beaches of this west coast. Countless wading birds will keep us company as we make our way to Howmore and the warm & atmospheric hunting lodge known for its hospitality and fine food.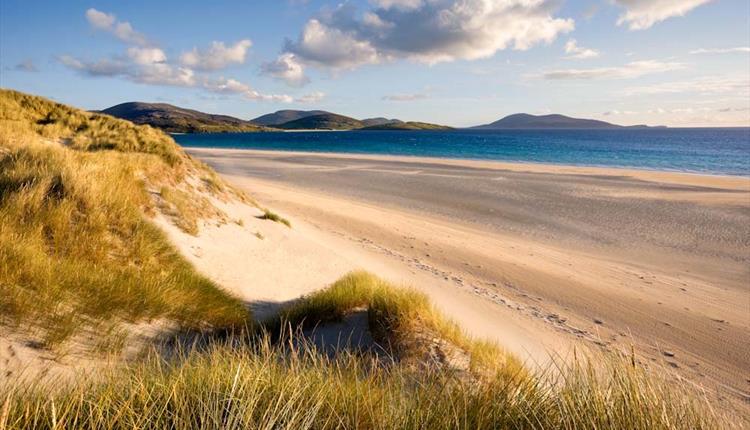 Sunday May 21 – Day 2 – Howmore to Linaclate, Isle of Benbecula
Distance = 18km
Following a magical day along the beaches of South Uist, today we will head inland to hike the island's wilder east coast exploring the many fertile croft fields and numerous lochs & bogs. This is wild and lonely country where there is more wildlife than humans, more water than land. The day ends with a crossing of the causeway onto the island of Benbecula.
Monday May 22 – Day 3 – Linaclate to Grimsay
Distance = 19km
Today we explore the Island of Benbecula, an Isle sandwiched between North and South Uist: Atlantic beach walking and the sound of seabirds, an easy climb up Ruabhal (the "hill of the fords"), and sensational views. We will finish the day with a walk along a beautiful causeway leading us into Grimsay, a charming, rocky island. We'll rest just north of the island, in Carinish, overlooking a tidal bay.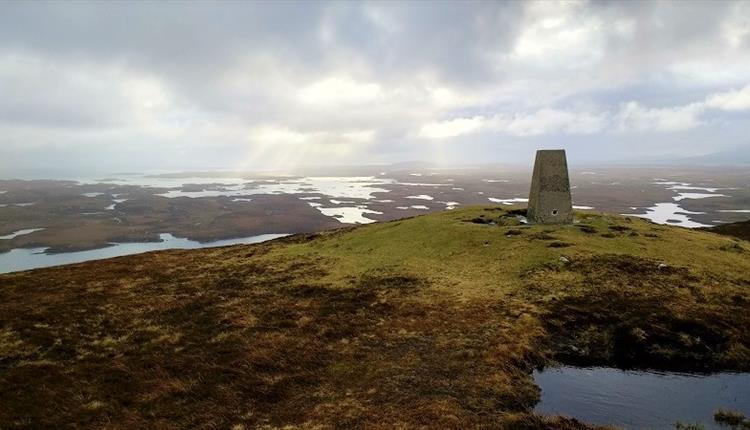 Tuesday May 23 – Day 4 – Grimsay to Langass, Isle of North Uist
Distance = 10km
The day starts off with some gentle road walking. Similar to yesterday, the route heads into the wild country, a magnificent fjord-like sea loch that almost cuts the Isle in two. Walking on a soft turf path, the route passes by ancient burial mounds and many a beautiful freshwater loch.
Wednesday May 24 – Day 5 – Langass to Berneray to Leverburgh, Isle of Harris
Distance = 15km
Our final day in the Uists is a scenic one as we go well off the beaten track exploring the island's north east corner. We hike over a moorland and up Binn Mhor (a mere 190m high), across wet boggy ground with plenty of boardwalks, and then onto a causeway that leads us into Berneray. At the end of the causeway, we board a ferry and … relax. It's time to enjoy perhaps one of Britain's most spectacular ferry journeys. The ferry ride will take us over the Sound of Harris to the village of Leverburgh. We end the day at a "cozy, warm & welcoming place, filled with lovely people." Welcome to the Isle of Harris.

Thursday May 25 – Day 6 – Leverburgh, Isle of Harris
Distance = 0km (-21km)
A day of rest, of spectacular beaches, and of pure sightseeing. We'll end our day where we began, in a remote location overlooking one of the most beautiful beaches on the south west coast of Harris. We are truly in the heart of the Hebrides.
Friday May 26 – Day 7 – Leverburgh to Horgabost to Tarbert, Isle of Harris
Distance = 17km
A drive to Horgabost to continue where we left off. Today's hiking is a delight with a series of beautiful tracks to guide us through the intricate rocky landscape of Harris's east coast. We will pass by several attractive little villages getting to know our Harris tweed and other knitwear. The day ends at Tarbert, the island's fine little capital nestled in a valley where North and South Harris meet, and home to a striking new whisky distillery which opened its doors in October 2015.
Saturday May 27 – Day 8 – Tarbert to Scaladale with taxi back to Tarbert, Isle of Harris
Distance = 14.5km
A short day with a fine path, a welcome change.
Sunday May 28 – Day 9 – Tarbert to Achmore to Stornoway, Isle of Lewis
Distance = 14km
Goodbye to Harris and hello to Lewis, our final island of this epic journey.
Not to be missed ... a wonderful opportunity to visit the famous Callinish Stones. A taxi ride to the Callinish Stones and then to our trail in Achmore with the final section of the Hebridean Way taking us into the wilds of the Lewis moorlands. The impressive Lews Castle is our destination - a fittingly dramatic end to a memorable journey. Congratulations.
Monday May 29 – Depart
From today onwards you are free to keep exploring, to stay put, or to return home. The trip is officially over. Flights on Loganair depart to Glasgow at 08:40, 16:15 or 19:30. Some may want to explore the neighboring Isle of Skye or stay a few more days in Stornoway.
Reserve Your Spot or Enquire