Cycling the Cabot Trail (Canada)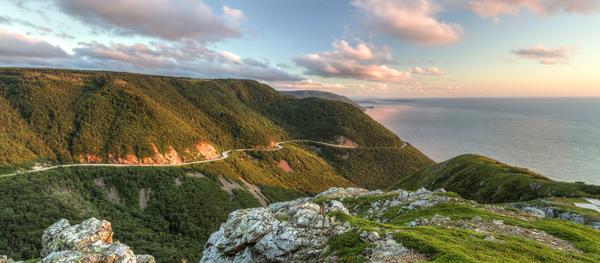 "The Cabot Trail in Cape Breton, Nova Scotia, must be one of the most scenic bicycle rides in all of Canada, if not the world."
The Cabot Trail is a 300km loop around Nova Scotia's Cape Breton Island. "Rising from the sea and clinging to mountains", we'll cycle this majestic and awe-inspiring trail in 4 days accompanied by a professional cyclist and supported by van.
The views, the climbs, the Inns, and the Celtic spirit will be woven together to create an exhilarating week of cycling and Cape Breton beauty. The trip is 7 days in total – 4 of which will be spent cycling the Cabot Trail and the remaining days engaged in the Celtic and seaworthy activities that make this Island one of the top ranked islands in North America.
We'll pick you (and your bike) up from the Sydney airport and spend the first day getting the bikes tuned up and ready to roll. Then from the small fishing community of Dingwall, we'll head out, cycling clockwise through the fishing villages of Neil's Harbour and Ingonish. Long, undulating, and dramatic rides along the East Coast, over Cape Smokey and into Baddeck – the colourful hamlet nestled on the shores of the Bras d'Or Lakes. Then up and over Hunter's Mountain, we'll cycle through the Margaree River Valley to the western side of the Island where we'll join the coast road to Cheticamp, a traditional Acadian fishing village rich in culture and traditions. The final day is truly exhilarating as we cycle through the Cape Breton Highlands National Park, up and over two "mountains", and back into the coastal community of Dingwall where we'll celebrate with great food, Scottish cheer and Celtic music.
On our final day, we'll pack away the bikes, and head out to sea with Captain Fraser in Bay St. Lawrence, taking time out to enjoy clam chowder at Meat Cove, and a swim at Cabot's landing, a stunning stretch of soft sandy beach – an absolutely beautiful spot to finally sit and relax.
Trip Price: TBD
Price Includes: 7 nights accommodation in lovely Cape Breton lodges, all meals (breakfast, lunches and dinners), transportation to and from airport, unique opportunity to ride with a professional cyclist, van support and whale watching.
Price excludes: air travel and insurance, bicycle and bike gear (helmet, repair kits, clothing)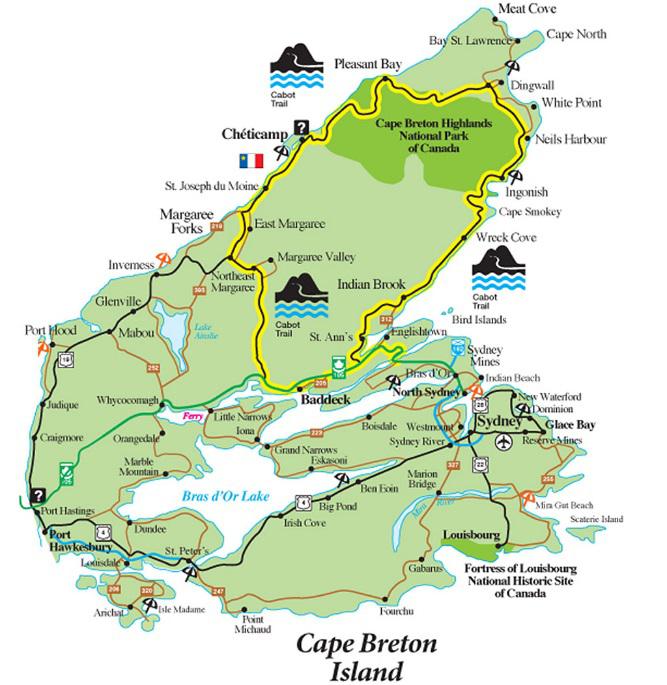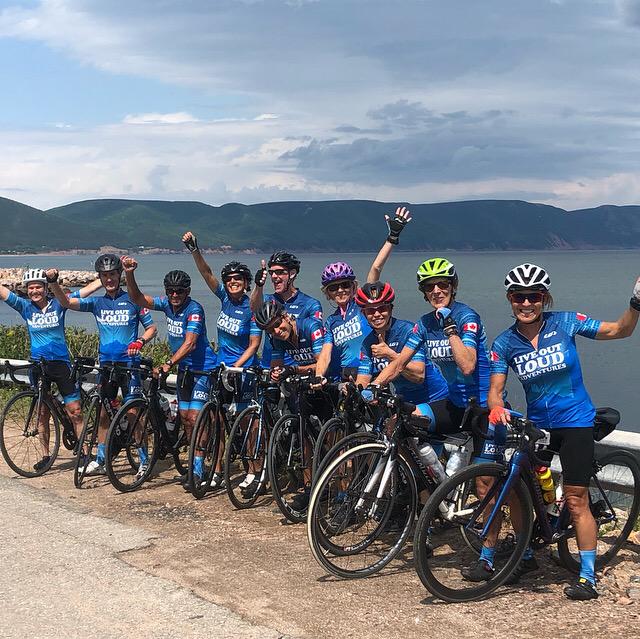 ITINERARY (2023)
Friday August 4
Fly into Sydney Airport, Nova Scotia by 3pm. Transport to Dingwall for a kickoff celebration.
Saturday August 5
A day of preparation and sightseeing.
Dinner, entertainment, and accommodation at the Markland.
Sunday August 6 – Day 1 of the Cabot Trail
70km moderate ride from Dingwall to just south of Ingonish.
Dinner and accommodation in Ingonish.
Monday August 7 – Day 2 of the Cabot Trail
70km moderate ride over Cape Smokey, through Wreck Cove and into Baddeck.
Dinner and accommodation in Baddeck.
Tuesday August 8 – Day 3 of the Cabot Trail
79km easy to moderate ride through the Margaree Valley and into Cheticamp.
Dinner and accommodation in Cheticamp.
Wednesday August 9 – Day 4 of the Cabot Trail
81km – a challenging and exciting ride through Cape Breton Highlands National Park, climbing 2 mountains of about 1,400ft. Long ascents and exhilarating descents.
Celebration Dinner!
Thursday August 10 – Day of Cape Breton Fun
Whale watching in Bay St. Lawrence.
Lunch in Meat Cove.
Visit and swim at the Cabot's Beach.
Final dinner and Celtic music at the Markland .
Friday August 11 – Depart for Sydney Airport
NOTE ABOUT THE ROUTE
The Cabot Trail is truly one of the world's greatest bicycle rides but it is challenging with 70+ kms/day up, over, and down some dramatic landscape. The roads are paved and most, but not all, have paved shoulders. There are a few sections where the road is rough with gravel and/or uneven surfaces but every year, the surface improves as the road works continue. This trip is for experienced cyclists comfortable with riding long distances at 15km/hr or faster.
CONTACT
If you'd like to join us in Cape Breton, please contact Alison Wiley at:
info@liveoutloudadventures.com
or at (647) 504-2108. Alternatively, you can check us out at:
www.liveoutloudadventures.com
.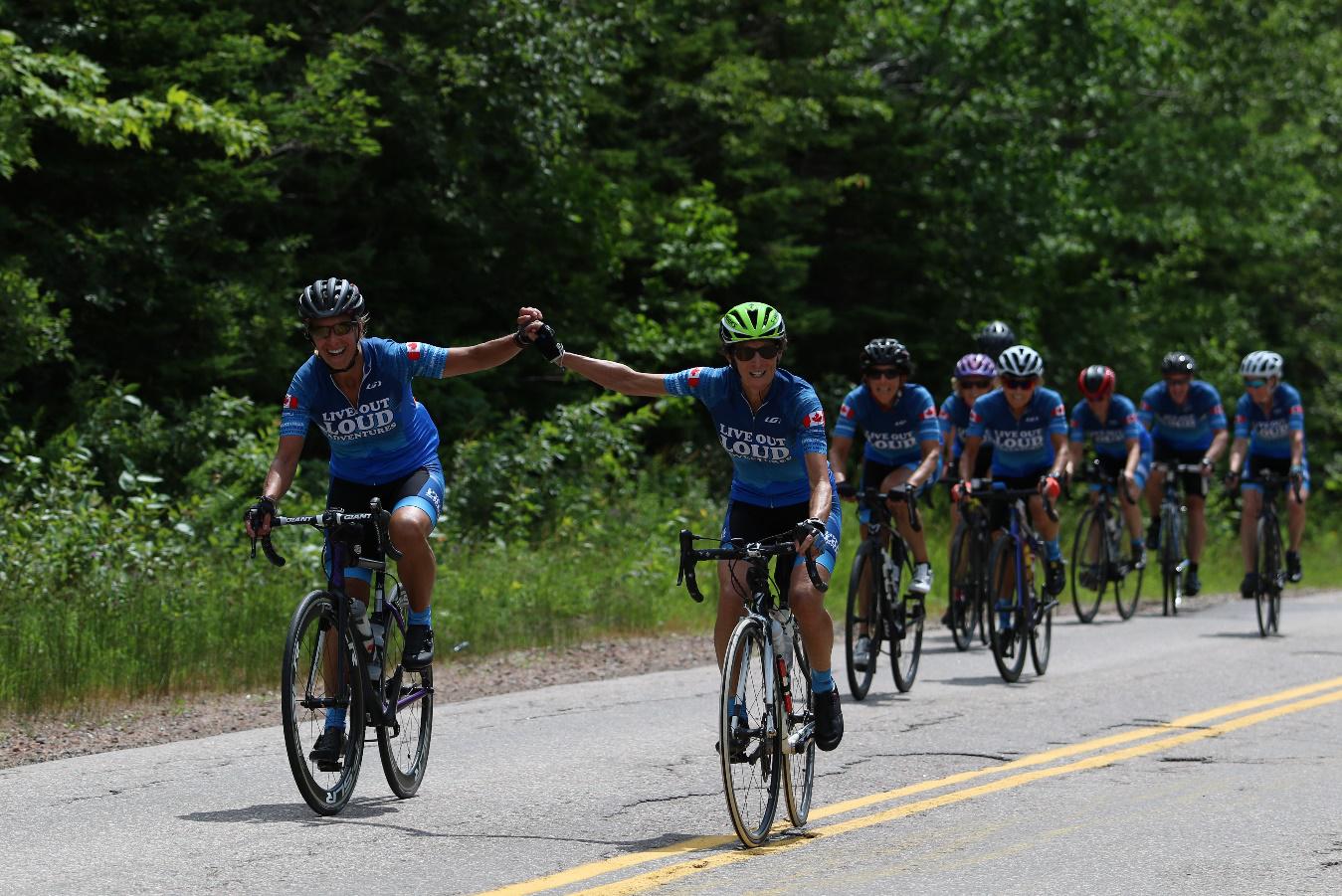 Reserve Your Spot or Enquire